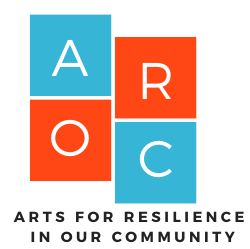 Arts for Resilience in Our Community is designed to connect young adults, ages 15 to 24, with professional artists to foster confidence, build resilience, and increase social and community connectedness in response to the impact COVID-19 has had on them.
AROC will contract with three professional artists in Theatre Arts, Visual Arts, and Musical Arts. Twenty young adults will be selected to participate per discipline. Workshops will be held twice a month for 2.5 hours over a three-month period. Each discipline will conclude with an exhibition or showcase of the works created. The AROC experience will provide both participants and artists opportunities to work together throughout the three-month workshops.
This $39,000 project will offer each individual artist an $8,000 commission in the fields of theatre arts,  musical arts, and visual arts. It is funded by the American Rescue Plan Act (ARPA), supported through the Institute of Museum and Library Services, and administered by the State Library of Ohio.
---
How to Participate
Extended deadline: Monday, November 1, 2021 by 11:59 PM
For further questions, please email: Aroc@shakerlibrary.org