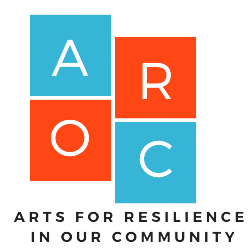 Arts for Resilience in Our Community (AROC) is a nine-month arts series designed to connect young adults ages 15 to 24 with professional artists to foster confidence, build resilience, and increase social and community connectedness in response to the impact COVID-19 has had on this demographic.
This project is funded by the American Rescue Plan Act (ARPA), supported through the Institute of Museum and Library Services, and administered by the State Library of Ohio.
---
Artist Stipend:  $8,000, plus project supplies and material up to $1,000

Extended deadline: Monday, November 1, 2021 by 11:59 PM
Notification: Jurors will select artists after November 1.
Jurors will select three artists to conduct a Series of Arts Workshops
Theatre Arts will be held November 2021 – January 2022.
Musical Arts will be held February 2022 – April 2022.
Visual Art will be held May 2022 – July 2022.
Selected artists will work with up to 20 young adult participants, ages 15-24. Over a three-month period, each artist will facilitate two 2.5 hour workshops per month (for a total of 5 hours) per arts medium, which will conclude with an exhibition or showcase of works created.
Eligibility: Professional artists who work in theatre, music, or visual arts. Please note: Musical artists should have experience in music production (songwriting, arranging, tracking, editing, mixing and mastering). Jurors will select one artist per discipline.
Submission Requirements: Visit the AROC website to apply online. Applications must include:
A one-page letter of interest (single-spaced) describing their qualifications and explaining why you are interested in working on this project.
An explanation of your approach to the project, such as why and how you will develop your vision for the workshops and culminating exhibition or showcase.
An outline of how you will engage young adults ages 15 to 24 to participate and commit to the project.
A short bio (no more than 150 words).
An up-to-date resume or CV.
Visual artists should send up to 10 images depicting completed relevant work in JPEG or PNG format (Please do not include any identifying information) with links to digital portfolios or websites, as applicable.
Performing artists (theatre and music) should send links to their performances.
Questions: Please email AROC@shakerlibrary.org (No phone calls, please.)