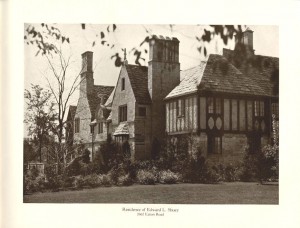 Although homes in the city of Shaker Heights represent several eras and architectural styles, from century farmhouses to LEED-certified structures, most houses were built under the supervision of the Van Sweringen Company after they designed and marketed Shaker Heights as a planned community in the early 1900s. 
The Van Sweringens required property owners to build according to strict architectural guidelines, and favored conservative English, French, and Colonial designs. House styles east of Warrensville Center Road reflected less stringent 1930s and 1940s preferences, including lower rooflines, larger yards, and more prominently placed garages.
We offer numerous tools and tips to help you research the history of your Shaker Heights home, no matter what style and time period it represents.  Click on the sections below to learn about resources located in the Local History Collection, online, and at partner institutions. 
See a short presentation on resources available to research your Shaker home:
Research Your Shaker Home with Meghan Hays, October 17, 2020, cosponsored by the Shaker Historical Society and Shaker Heights Public Library, on Shaker Historical Society's Facebook page and on Shaker Library's YouTube channel.